Another RevOps Strategist Brings Proven Experience and Energy to the RevPartners Team
Here we grow again! It continues to amaze us what incredible and talented professionals are joining us in democratizing RevOps and serving our partners as they grow. This week, we were honored to bring onboard a seasoned and passionate RevOps Strategist who specializes in marketing automation, inbound marketing and lead generation.
It is already so evident that she exemplifies our company values of 100% Stewardship and Forward Momentum, bringing energy to our team and care to our partners.
Meet Diana Gonzalez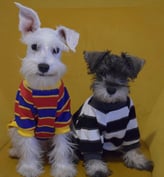 Taking full advantage of the digital nomad life, Diana has been working remotely for a long time and set a personal record of traveling to 15 different countries in 2019! She is now settled back in Colombia, but enjoys the flexibility that remote work with RevPartners offers. Her downtime is usually either spent with crafty activities like knitting or making scrapbooks or with the loves of her life – Totoro and Coconut - her two adorable schnauzers.
Diana's 8 years of experience in the digital marketing field has made her quite the RevOps ninja! Her experience is largely in consulting and building strategies for companies looking to expand their sales and marketing efforts. Additionally, she has a wide range of CRM and marketing automation experience with Pardot, Marketo, HubSpot, Zoho suite, Salesforce, Active Campaign and others. We are excited to see how she combines this wealth of knowledge with her bias towards action to serve our partners through revops.
"I'm really excited to learn more about and grow within revenue operations! Particularly understanding that my output will directly impact companies of all sizes meet their bottom line and reach their goals. Using my marketing background to help drive conversions, decisions and results is an extremely gratifying way to move forward professionally." - Diana G.
Welcome aboard the rocket ship, Diana! 🚀