RevPartners Top Takeaways from Bowery Capital's 2021 Startup Sales Stack Report
Every year our friends at Bowery Capital share a comprehensive report featuring the best software solutions, industry trends, and market recommendations and the 2021 stack is pure gold. We've reviewed the full report and highlighted our most notable takeaways for the RevOps community.
You can view the full report here.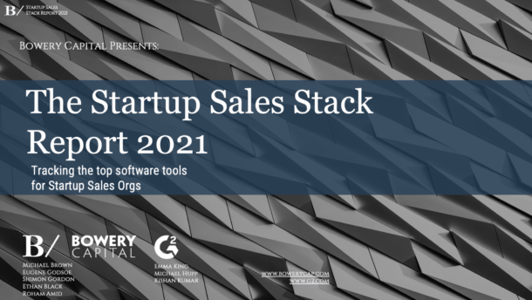 The Fewer Platforms, the Better
The number of tools and business platforms available now can be overwhelming, but if you're looking to consolidate platforms, look no further than HubSpot.
At RevPartners, we are BIG believers in HubSpot so it was no surprise to see our CRM of choice dominate across industries in 2021. Out of the 15 different categories the report ranked tools for, HubSpot was listed 8 times. If that wasn't impressive enough, they hold the top spot in 4 of those categories.
HubSpot Ranked #1
Sales Analytics
Sales Performance Management
Sales Engagement
Email Tracking
HubSpot Ranked in Top 5
Sales Intelligence
Marketing Automation
CPQ
CRM
The message is clear: if you aren't using HubSpot, you're missing out. Since their non-compete with Salesforce ended in late 2020, they have launched countless product updates that have truly elevated the platform to the top. They offer a full range of services so you can focus on marketing, sales, and revenue all in one place.
Revenue Happens Behind the Scenes
One takeaway the Bowery report showed is that revenue (both B2B and B2C) is generated on the back end. Sales management platforms saw major growth in 2021, and SalesLoft stands out amongst competitors in for several categories in this industry.
Last year was a huge year for our friends at SalesLoft, and they received they the recognition they deserve in the Bowery Report. In addition to their $2.3 billion valuation announcement, they took the #2 spot in 4 different categories.
Kyle Porter, the CEO of SalesLoft, reflects on its value, saying "It's critical to have an alpha platform for your sales team, where they can execute all their digital selling tasks, communicate with buyers, and get the coaching and insights they need to win. That's why we built SalesLoft."
SalesLoft Ranked #2
Sales Coaching
Sales Engagement
Email Tracking
Sales Performance Management
Automation is Most Important
Another theme this report makes abundantly clear is that automation and ease-of-use for sales tools is a top priority for businesses. The success of revenue operations depends heavily on consistent adoption of tools, and user friendly platforms that incorporate automated tracking systems received the highest overall satisfaction rates.
HubSpot understands this better than anyone, and continues to build their platform with automation, customization, and data integration in mind.
Hats off to Bowery Capital and G2 for this value packed sales stack. Stay awesome and keep doing it BIG! 🚀