Sharing a Page from the RevPartner's Book
Our CEO, Brendan, recently took the time to detail the 10 underlying themes that have allowed RP an extraordinary first year. One of the points around Demand Generation was extraordinary.
In a year, we've gone from 0-$3M and spent nothing on outbound sales and a few thousand bucks on Marketing.
No, we are not that smart. We didn't create a brand new playbook. We just listened to smart companies, like HubSpot, and thought leaders, like Dave Gerhardt and Chris Walker, who discussed the new buyer's journey.
Then, we created channels and invested in dark funnel activities where buyer's want to engage. Here are a some of those that we found most successful.
Building Channels
PE and VC relationships that need solid revenue operations for portfolio companies. We've been fortunate to partner with some of the leading VC's in the world, like Insight Partners. In fact, here's a chat with Insight's Operating Partner, Pablo Dominguez.
Building Conversations
We created a podcast this year so our community can learn from operators who have taken companies from high growth to high scale. They've walked in the shoes of our partners- i.e relevant content that provides real value.
Building a Brand
We've gone from 0-1k+ followers on LinkedIn this year How? We have an opinion. We have fun. We encourage our team to build their own personal brand and publish content.
Building Content Rhythms
In Atomic Habits, James Clear talks about tiny habits having remarkable success. It's similar to the flywheel. Meaning, our content machine wasn't an instant success (nor is it today) but our content cadence has allowed us to see results.
Here's an example content calendar from August: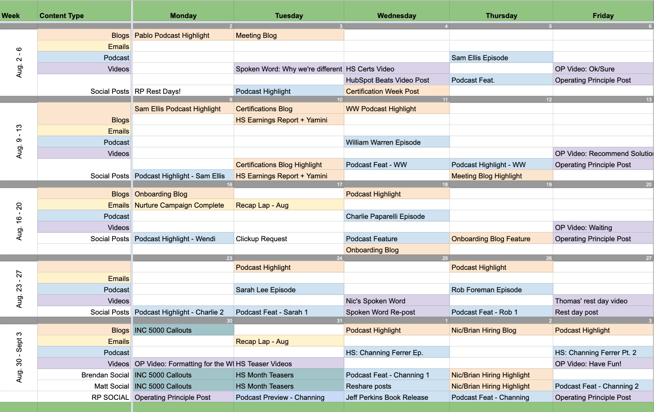 Building Community
Create value add content. Find your community(s) and engage with thoughtful posts and responding to questions. It's ok to have an opinion but be civil.
Get a pulse on the market by observing themes from sales calls. In our case, we saw an underserved community of HubSpot where the market feels like Salesforce is the only option. No, Salesforce isn't bad but who doesn't like a story with a hero and a villain? So have fun with it. Build relationships. Don't over complicate it.
Example: On Matt Bolian's personal linkedin where he has been engaging with our community, views have gone up 11k% and likes have gone up 16k%. Find your niche, find your voice, find your community and watch what happens.