RevPartners Proves Credibility Among Partners, Receives UpCity Award
For more than a decade, UpCity's mission has been—and continues to be—to help businesses find B2B service providers they can trust. The UpCity Recommendability Rating was developed to determine a service provider's credibility and recommendability, giving UpCity the confidence to recommend them to the more than 2 million businesses that visit their site.
Each year, UpCity analyzes, and scores more than 70,000 service providers based on their UpCity Recommendability Rating and acknowledges the top national and local providers with an UpCity Excellence Award. The results are in, and we won!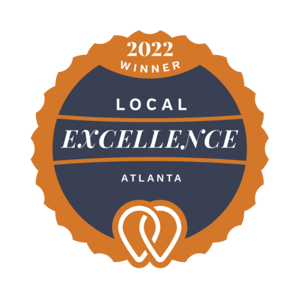 We are proud to announce that the RevPartners team has been recognized as one of the top B2B service providers of 2022 in the Atlanta area by UpCity!
Jack Thornburg, VP of Organic Growth of UpCity, had this to say about RevPartners:
"A quick look at RevPartners' reviews shows just how dedicated they are to their clients. It's an extremely talented team, and we're thrilled to present them with a 2022 Excellence Award. Congratulations!"

— Jack Thornburg, VP of Organic Growth, UpCity
What Our Partners Have to Say
This recognition has been driven in large part by our 5-star review rating on UpCity. Here are a few of our favorite pieces of feedback we've received from our incredible customers:
"I am very impressed with the team RevPartners has built. I trust and recommend RevPartners to anyone looking to explore revops in their business."

– Andrew Walker, August 2021
"RevPartners has assembled the best team and I highly encourage consideration for any company looking to strategically, rapidly and sustainably grow their company."

– John David Lewis, August 2021

"Matt, my point of contact at RevPartners, was incredibly thorough, kind, and patient. He walked me through all of my concerns and clearly answered my questions. Matt set me up for success and helped boost my understanding/ use of HubSpot. I highly recommend it to anyone!"

– Holly Love, July 2021
Doers of BIG things. RevPartners is an unmatched team of operators who design and execute revenue engines to supercharge your growth. As the only B2B Diamond-Tier HubSpot Partner in Atlanta, we are thankful for this award. However, we would not be where we are today without our loyal and dedicated customers.
Learn more about the UpCity Excellence Awards.